.
About Tramontozzi Law
Tramontozzi Law Offices offer clients the advantage of extensive knowledge and skills to successfully represent them.
Licensed in Massachusetts, Tramontozzi Law Offices handle:
 Attorney John Tramontozzi

Attorney John Tramontozzi is a veteran of the Suffolk County District Attorney's office. He has over 30 years of experience in litigation. As your representative, he draws from a wealth of expertise.  Most notably, John's years of trial experience in the DA's office, coupled with extensive private litigation experience sets John apart from his peers. He has assisted many families through estate disposition and real estate transactions.  His ease at navigating the court system, as well as his knowledge of municipal and legislative systems, has proven to be a great asset to clients. He is a skilled and thoughtful guide throughout the legal and litigations processes.
Acclaimed Advocacy
From your first meeting, to the negotiation table, to the courtroom, it is critical that your attorney has the confidence and knowledge to effectively and impactfully advocate for you. John Tramontozzi has earned the respect of peers and gratitude of his clients. He has a reputation for being both an aggressive advocate and a gentleman, in and out of the court.
Further, as an assistant district attorney in Suffolk County, John successfully prosecuted serious criminal cases. Additionally, he provided the DA's office with valuable research and writing. The Appeals and Supreme Judicial Courts of Massachusetts decided many of John's cases favorably.
Knowledge
John knows the inner workings of the Massachusetts Court System. Because of his experience as a prosecutor and now as counsel for defendants, John is uniquely qualified to achieve the best possible outcomes for his clients.
John Tramontozzi served as a Senior Trial Attorney retained by Commercial Union Insurance Company and One Beacon Insurance Group. While in these roles, John handled personal and commercial cases. These included personal injury actions, construction site accidents, environmental claims, general insurance coverage disputes, and the prosecution of many subrogation matters.
Additionally, John serves as a mediator and arbitrator on matters relating to personal injury, domestic relations, and contract law. A number of local district courts including Malden and Lawrence District Courts seek John's skills as a mediator.
Community Leadership
John has been elected seven times to the Melrose City Council by the citizens of Melrose making him a 16-year veteran of the board. As a result of his outstanding service and commitment to the community, his peers honored John by choosing him to serve as President of the Board. While serving as a City Councilor  in the City of Melrose, John has carried out the legislative powers of the city. This includes the issuance of licenses, appropriations, appointments to commissions and boards, reviewing zoning matters, and meeting the needs of his constituents.
Notably, John's experience as a City Councilor gives him access to and an understanding of aspects of the legislation that affect the practice of law. He applies his knowledge of civic matters to his law practice.
A highly respected attorney and legislator, John is your strongest advocate in navigating the legal system.
Consulting Attorney
Attorney Neil O. Anderson

Attorney Neil Anderson, a 2018 graduate of Massachusetts School of Law and a 1994 cum laud graduate of Northeastern University with a major in human services and a minor in African American Studies, was sworn-in as an attorney by the Massachusetts Board of Bar Examiners on June 12. He has an extensive background spanning more than 20 years in nonprofit work. Most recently, Neil served as the Executive Director of the Friend of the Middlesex Fells Reservation.
Experience Across Sectors
Before this, Neil served in a variety of roles within the nonprofit, business, and municipal sectors. Neil held executive level positions with multiple non-profit organizations. Neil was self-employed where he notably assisted nonprofit organizations with fundraising and event planning, performed sales and marketing tasks for businesses, and developed youth advocacy programs for local municipalities. Additionally, Neil has served as a radio talk show host, a voice actor,  and is an accomplished public speaker.
Neil has received many accolades throughout his career. At the Massachusetts School of Law, he won a CALI Award for excellence in writing and was the winner of the Best Advocate Award in their 2016 Writing and Legal Advocacy Competition. Additionally, he has twice been awarded alumni of the Year Award from the Society of Latino Alumni at Northeastern University and honored as Career Coaching for Kidz Person of the Year in 2009. He has raised more than $10,000 for the Leukemia and Lymphoma Society as a member of their Team in Training Program where he competed in and completed the Walt Disney Marathon and the New York City Triathlon.
Consulting Attorney
Attorney Anastasia Tramontozzi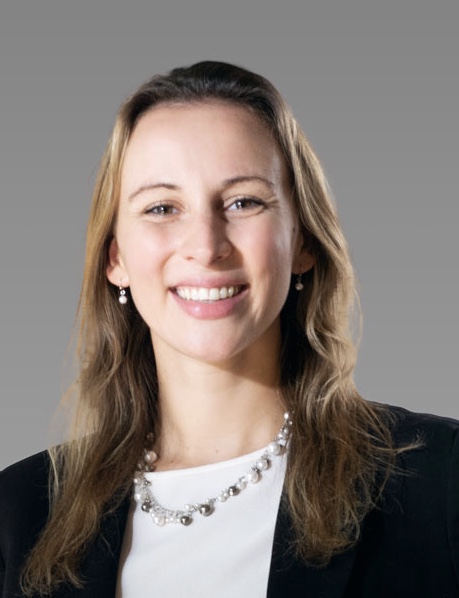 Education:
• Elon Law School
• University of St Andrews
• The College of The Holy Cross
Bar Admission:
• Massachusetts State Bar
• North Carolina State Bar
Consulting Attorney Anastasia Tramontozzi graduated from Elon Law School (Greensboro, NC) and College of the Holy Cross  Worcester with high honors, earning a double degree in philosophy and political science. She studied international relations and philosophy at  University of Saint Andrews  in Scotland throughout her junior year at Holy Cross. Her primary focus is criminal defense litigation and she has an extensive background in real estate law.  She is based  in Winston-Salem, North Carolina.
Before attending Elon Law School, Anastasia interned and served as a paralegal with Tramontozzi Law Offices, becoming well versed in Personal Injury and Real Estate law. Additionally, she further developed her knowledge of Real Estate law with a  Massachusetts Law Firm specializing in Real Estate transactions.
While at Elon Law, Anastasia was recognized for her academic excellence as a Leadership Fellow. She participated in Elon's Moot Court and served on the executive board of Elon's Innocence Project and National Lawyers Guild. Anastasia volunteered as a court-appointed Guardian Ad Litem for two years, which prepared her to advocate for the rights of marginalized and vulnerable populations. She held a judicial clerkship at the  Suffolk County Juvenile Courthouse in Boston and more recently served as a public defender in Forsyth County NC. She represented clients in numerous legal criminal and civil matters.
Outside the courtroom and office, Anastasia plays music. She has played trumpet internationally with student and local jazz bands, as well as throughout college. Anastasia has also performed vocally in numerous theatre performances and is classically trained in piano performance.
"I am proud to collaborate with my father and Tramontozzi Law Offices and honored to represent counsel on the team at Tramontozzi law."