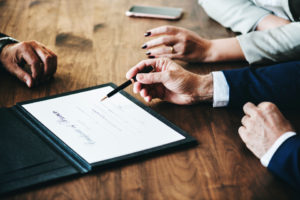 Whenever you experience any major life change, including a divorce, estate planning needs to be part of your thinking . Life transitions are generally completely consuming, marriage, birth death divorce adoption- and time in an attorney's office reviewing documents may seem far removed from the experience of the moment If you do not have an estate plan in place, then after a divorce is a good time to consider developing a comprehensive estate plan that meets your needs, as well as those of your family. Sometimes these needs have dramatically altered.
Health Care Proxy
Your estate plan should have a Health Care Proxy. Typically a married couple would designate one another in that capacity. It is likely that now you would like to choose a close family member or friend to act as your Proxy to make those crucial health care decisions regarding your life and death medical health decisions, and fully inform him or her of your wishes as clearly as possible. It is unlikely that you would like to have your disgruntled ex-spouse making these decisions on your behalf.
Durable Power of Attorney
In addition you should have a Durable Power of Attorney to address your financial affairs should you become disabled or incapacitated and unable to make those decisions yourself. When a couple is married, they typically name one other as power of attorney in the event of incapacitation. After a divorce, you will need to consider e another person to handle your affairs if necessary, whether it is a parent, a sibling, an adult child, or a trusted friend. Otherwise, you risk having your personal finances, property and bills, being handled by the ex-spouse which is not usually what one would choose.
Will
Generally, when a married couple execute wills, they name one another as the heir and executor/personal representative of their estates. If your children are adults you may choose to simply divide your estate among them equally or you may feel that there are certain needs that should be addressed among them which we can help you to address. If your children are still minors or you don't have any children, then you'll want to choose a sibling, parent, or other close relative to handle your estate, rather than your ex-spouse, who may no longer have your best interests protected.
Assets
Finally, don't neglect to change the beneficiaries on non-probate assets, such as life insurance policies and 401(k) plans, and other retirement accounts. Often people neglect to transition an old 401(k) plan from a previous job from over 20 years ago. However, unless you really want to leave potentially substantial sums of money to your ex-spouse, you need to ensure that this is addressed.
We are pleased at Tramontozzi Law to help you through the estate planning process in order to address all questions and concerns. With our skills, experience, and knowledge, we can help you make the estate planning decisions that will best benefit you and your family. Contact us at 781-665-0099 or stop by our Melrose office today. We are happy to meet with you for an initial free consultation to determine if we are the right fit and can assist you with your needs.
Further information on estate planning is available through our web site and blogs
Who Needs an Estate Plan http://tramontozzilaw.com/who-needs-an-estate-plan
What is Estate Planning: Ten Tasks  http://tramontozzilaw.com/what-is-estate-planning-the-ten-tasks/
Estate Planning Services Tramontozzi Law  Tramontozzilaw.com/services/estate-planning/
Overview of Estate Planning:http://tramontozzilaw.com/overview-of-estate-planning-for-melrose-ma/,